Wednesday, 13 April 2016 - Reported by Marcus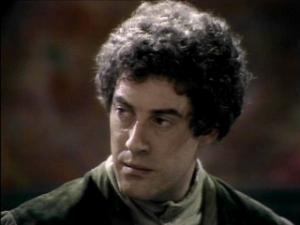 The actor Gareth Thomas has died at the age of 71.
Gareth Thomas was best known as the eponymous hero of the 1970's science fiction series Blake's 7.
Thomas played Roj Blake, leader of a band of rebels, pitted against a corrupt federation in the series created by Terry Nation. The series ran on BBC One from 1978-1981, with Thomas taking the lead role for the first two series. When Thomas decided not to renew his contract for series 3, the character of Blake was killed off. The ghost of Blake was present throughout the remaining series and Thomas returned to the series twice, once at the end of series 3 and once for the climatic final episode, Blake.
Gareth Thomas was born in Wales in 1945. He trained at RADA and made his TV debut in a 1965 production of Rome and Juliet.
A steady succession of TV roles followed, including parts in Coronation Street, Z-Cars, Harriet's Back in Town, Sutherland's Law, Edward VII, Jackanory and How Green Was My Valley where he played Rev. Gruffydd.
In 1972 he was nominated for a BAFTA for his performance in the BBC Play for Today, Stocker's Copper.
He played Adam Brake in the 1977 children's series Children of the Stones, and Shem in the ITV series Star Maidens
Following his role as Blake he played Philip Denny in the 1983 version of A.J. Cronin's The Citadel and took the lead in the BBC One drama Morgan's Boy, about a Welsh hill farmer who finds himself looking after a teenage boy, a performance which won his second BAFTA nomination.
He appeared in By the Sword Divided and Knights of God and had a regular role in the ITV series London's Burning. In 1998 he took on the role of Nathaniel Clegghorn in Heartbeat.
In 2012, Thomas returned to the role for which he was best known, playing Roj Blake in the Big Finish Production, Blake's 7: The Liberator Chronicles.
Gareth Thomas died Wednesday 13th April. He is survived by his wife Linda.