Thursday, 12 September 2013 - Reported by John Bowman
Channel 4 is to air the series
Marvel's Agents Of S.H.I.E.L.D.
from
Friday 27th September
- just three days after it premières in the USA on ABC.
Co-created by
Joss Whedon
along with his brother
Jed
and Jed's wife
Maurissa Tancharoen
, it sees
Clark Gregg
reprising his role as Agent Phil Coulson from Marvel's feature films as he assembles a small, highly select group of agents from the worldwide law-enforcement organisation S.H.I.E.L.D. (Strategic Homeland Intervention Enforcement and Logistics Division) to investigate extra-normal and superhuman people and events worldwide.
Coulson's team consists of Grant Ward (
Brett Dalton
), who is highly trained in combat and espionage, expert pilot and martial artist Agent Melinda May (
Ming-Na Wen
), top engineer Leo Fitz (
Iain De Caestecker
), and genius bio-chemist Jemma Simmons (
Elizabeth Henstridge
). Joining them is new recruit and computer hacker Skye, played by
Chloe Bennet
.
The show - Marvel's first TV series - will air in the UK at
8pm
, and Channel 4 chief creative officer
Jay Hunt
said:
Like the superhero universe from which it has come, Marvel's Agents of S.H.I.E.L.D. is big, bold, and absolutely exhilarating. Featuring the production values you'd expect from Marvel and ABC Studios, this is family entertainment at its most exciting.
Joss Whedon directed and wrote the screenplay for the 2012 feature film
Marvel Avengers Assemble
and created cult TV series
Buffy The Vampire Slayer
,
Angel
,
Firefly
, and
Dollhouse
.
The 13 episodes begin where
Marvel Avengers Assemble
left off.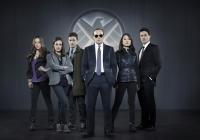 It's just after the battle of New York, and now that the existence of superheroes and aliens has become public knowledge, the world is trying to come to grips with this new reality.
Agent Phil Coulson is back in action and now has his eye on a mysterious group called The Rising Tide. In order to track this unseen, unknown enemy, he has assembled a small, highly select group of agents from the worldwide law-enforcement organisation known as S.H.I.E.L.D.
They must try to track down an ordinary man who has gained extraordinary powers - the use of which could have devastating consequences.
The Whedons and Tancharoen are also the executive producers, along with
Jeph Loeb
and
Jeffrey Bell
. The series has been produced by ABC Studios and Marvel Television.
A launch trailer is available to watch: