Monday, 8 July 2013 - Reported by John Bowman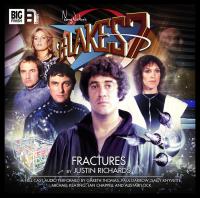 The surviving original TV cast of
Blake's 7
are being brought back together again in six new audio plays.
The
Big Finish
dramas will launch in
January 2014
with
Fractures
by
Justin Richards
, in which an escape from a Federation pursuit ship leaves the crew of the Liberator licking their wounds. As the dust settles, realisation gradually dawns that the trust and camaraderie that has built up between them is dissolving - and one of the crew is working against the rest.
The audios see the return of
Gareth Thomas
as Roj Blake,
Paul Darrow
as Kerr Avon,
Michael Keating
as Vila Restal,
Sally Knyvette
as Jenna Stannis,
Jan Chappell
as Cally, and
Brian Croucher
as Travis, while
Alistair Lock
voices the computers Zen and Orac.
The writers for the rest of the season are
Andrew Smith
,
Marc Platt
,
Peter Anghelides
,
Mark Wright
, and
Cavan Scott
.
The news follows
the release earlier this year
of Anghelides' audio drama
Warship
, which first saw the original surviving Liberator team reunited.
David Jackson
, who played crew member Olag Gan, died in 2005, while
Peter Tuddenham
- the voice of Zen and Orac on TV - died two years later.
Producer
David Richardson
said:
I was delighted that our first full-cast Blake's 7 audio, Warship, received such glowing reviews and a rapturous reception. I'm therefore thrilled that we're able to continue with more full-cast stories, which are set during the second season of the TV show, as a worrying revelation forces Blake to interrupt his search for the Federation control centre Star One.
The series is being released in a licence deal with
B7 Media
, and
Andrew Mark Sewell
, the executive producer of B7 Media, said:
It's great to be working with Big Finish on more full-cast Blake's 7 stories. Given this year marks the 35th anniversary since the TV series first aired, these epic-sounding audio adventures are a great way for fans to celebrate Blake's 7 enduring legacy.
After
Fractures
comes out, the other stories - whose titles are yet to be revealed - will be released monthly until June.
The TV series, created by
Terry Nation
, ran on BBC1 between 1978 and 1981.