Wednesday, 26 June 2013 - Reported by John Bowman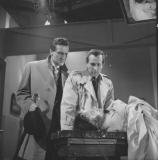 Twelve of the missing episodes from the first series of classic TV show
The Avengers
are to be turned into full-cast audio productions by
Big Finish
, it was announced today.
Created by
Sydney Newman
and starring
Ian Hendry
as Dr David Keel and
Patrick Macnee
as John Steed, the show began airing on
Saturday 7th January 1961
with the episode
Hot Snow
. However, only the first 20 minutes of that story plus two full instalments from the rest of the 26-episode run -
Girl on the Trapeze
(which did not feature Steed) and
The Frighteners
- have survived.
But now, after signing a licensing deal with
Studio Canal
, Big Finish is to work from the surviving scripts to present adaptations of a dozen of those lost episodes in three four-disc box sets. The scripts will be adapted, with minimal changes, by
John Dorney
. The director will be
Ken Bentley
, with executive producer duties going to
Nicholas Briggs
and
Jason Haigh-Ellery
.
Producer
David Richardson
said:
We are absolutely thrilled to add this wonderful series to our catalogue and we look forward to faithfully re-creating those classic lost episodes.
The roles of Keel and Steed have already been cast, with "two brilliant, high-profile actors" playing them, he added. A casting announcement will be made once recording begins next month.
John Rodden
, the general manager for home entertainment at Studio Canal, said:
This opportunity confirms the enduring appeal of this classic TV series and the resonance of the Studio Canal collection in the context of British film and pop culture.
Volume 1 of
The Avengers: The Lost Episodes
, which will include a full re-creation of
Hot Snow
, will be released in
January 2014
, with Volumes 2 and 3 following in
July 2014
and
January 2015
respectively.
The titles of the episodes selected for recording are yet to be announced.