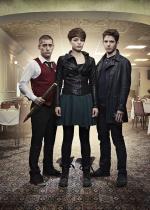 The BBC Three supernatural drama
Being Human
draws to an end next Sunday after five series.
The final episode, fittingly entitled
The Last Broadcast
, has been written by show creator
Toby Whithouse
and directed by
Daniel O'Hara
. It guest-stars returnees
Louis Mahoney
as Leo and
Ellie Kendrick
as Allison, while
Gordon Kennedy
plays Brendan,
Peter Dobbie
is a newsreader and Whithouse cameos as Alistair Frith once again.
The supernatural trinity has been broken.

There is little left of Hal's humanity. Having feasted on blood and recruited an army of vampires, he's ready to return to his hedonistic and debauched days. Tom is set on revenge and has returned to his default setting – vampire killer, with one vampire in mind. Alex is trapped in a hellish prison by Captain Hatch.

Unbeknown to them all, Hatch is no longer wheelchair-bound and weak; he's regained his strength and is determined to cause as much chaos, death, and destruction as possible.

Hal, Tom, and Alex do battle with the Devil in order to save the world - but at what price to their own humanity?

Damien Molony
plays Hal,
Michael Socha
Tom,
Kate Bracken
Alex, and
Phil Davis
Hatch.
A preview clip has been released, featuring a macabre take on the musical number
Puttin' On The Ritz
:
Pictures from the episode were released by the BBC today:
In addition, an extra scene - written by
Sarah Dollard
- following last Sunday's episode and featuring Tom and Rook (
Steven Robertson
) was made available online yesterday evening:
The Last Broadcast
airs on BBC Three on
Sunday 10th March
at
10pm
.