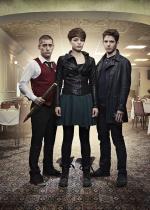 Next Sunday's episode of what will now be the final series of
Being Human
guest-stars
Amanda Hale
and
Julian Barratt
.
Pie And Prejudice
, written by
Jamie Mathieson
and directed by
Philip John
, sees Hale playing Regency ghost Lady Mary and Barratt portraying a TV personality called Larry Chrysler. Also appearing in it is
Ruari Mears
as a werewolf.
When Tom meets minor TV personality Larry Chrysler he's inspired by Larry's lifestyle and goes about learning how to be successful from his new mentor - but is Larry everything that he claims to be?

Meanwhile, Hal is dressed to impress and secretly off to meet an old friend called Lady Mary. Alex's curiosity gets the better of her and she sneaks off to follow Hal, but soon discovers some worrying similarities between herself and Lady Mary.

Pictures from the episode - the third in the series - were released by the BBC today:
Pie And Prejudice
airs on BBC Three on
Sunday 17th February
at
10pm
. Last week, the BBC announced that the supernatural comedy-drama series would finish at the end of the current six-part run.