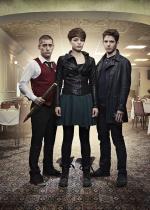 Next Sunday's episode of
Being Human
guest-stars
Ricky Grover
as Bobby and
Caitlin Richards
as Hazel.
The Greater Good
, written by
John Jackson
and directed by
Daniel O'Hara
, also features
Ruari Mears
as werewolf Tom and
Feth Greenwood
as werewolf Bobby.
Crumb has found his bloody way in the world with a new pal in tow. When Rook approaches Hal to get them under control, Hal is unable to refuse: he owes Rook a favour after all.

But that's not the only favour Rook asks: he wants them to look after Bobby, a werewolf who has been under Rook's care for a very long time.

The task falls to Tom and he has his work cut out reintroducing Bobby to a world he's long forgotten.

Damien Molony
plays Hal,
Michael Socha
Tom,
Steven Robertson
Rook, and
Colin Hoult
Crumb.
Pictures from the episode - the fourth in this final series - were released by the BBC today:
A preview clip has also been released:
The Greater Good
airs on BBC Three on
Sunday 24th February
at
10pm
. Meanwhile, an online-only scene, penned by
Sarah Dollard
and entitled
Alex's Unfinished Business
, was also released today, showing an attempt to rekindle the romance between Alex and Hal: