Tuesday, 26 February 2013 - Reported by John Bowman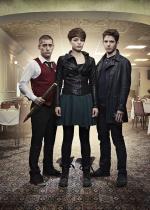 Next Sunday sees the broadcast of the penultimate episode of
Being Human
with all hell poised to be let loose.
Written by
Sarah Dollard
and directed by
Daniel O'Hara
,
No Care, All Responsibility
guest-stars
Kathryn Prescott
as Natasha.
Tom falls for a damsel in distress called Natasha when she runs into the hotel looking for a safe haven.

But Natasha comes to the attention of Hal for a darker reason when she offers him a way to control his bloodlust and prevent him from killing innocents.

Meanwhile, Alex is positive there's something suspicious about hotel resident Captain Hatch. But the more she investigates, the deeper into danger she gets.

Damien Molony
plays Hal,
Michael Socha
is Tom,
Kate Bracken
portrays Alex, and
Phil Davis
is Captain Hatch.
The episode is the fifth in this final series, and pictures from it were released by the BBC today:
No Care, All Responsibility
airs on BBC Three on
Sunday 3rd March
at
10pm
.