Friday, 8 February 2013 - Reported by John Bowman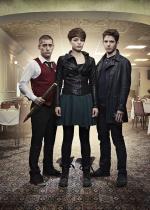 The current series of
Being Human
will be its last, the BBC has announced.
Created by
Toby Whithouse
, the supernatural drama about a house-sharing vampire, ghost, and werewolf began life as a pilot episode in February 2008, with the first series airing in 2009. It started its fifth run last Sunday. At its peak, the show attracted a ratings high of 1.6 million, with an average audience of 1.2 million, winning the Writers' Guild Award for Best TV Drama Series in 2009, 2010, and 2012, as well as being named Best Drama Series at the 2011 TV Choice Awards.
However, it all comes to an end with the sixth episode of this series - currently due to air on
Sunday 10th March
. In a statement, Whithouse said:
Being Human really shouldn't have happened. A preposterous idea, an epic and circuitous development process, a modest budget - no, we really shouldn't have lasted. But Being Human was the little show that could, and that ridiculous idea managed to last 37 episodes, spawn an American version, three novels, an online spin-off, and garner a shelf of awards.
But Being Human was always a collective effort, and none of that would have happened if it weren't for five separate groups of people.
First, the various producers and execs and script editors. Rob Pursey, Matt Bouch, Phil Trethowan, Polly Buckle, and Laura Cotton. Every idea I had was enhanced, improved, enlarged, and enabled by their brilliance and creativity.
Then there are the numerous writers and directors who have had to endure my capriciousness, vagueness, indecisiveness, and propensity to steal their best ideas and pass them off as my own.
It's also given me the chance to work with - and write for - some of the finest actors working today.
Russell Tovey
,
Lenora Crichlow
, Aiden Turner,
Sinead Keenan
,
Jason Watkins
, Michael Socha, Kate Bracken and Damien Molony. Looking at that list again now, I'm staggered by its ferocious talent and brilliance.
And I have to thank the BBC. Not because I'm obliged to, but because I literally have to. They gave us the opportunity to make Being Human and to make it in the way we wanted.
Julie Gardner
, Ben Stephenson, Danny Cohen,
Beth Willis
,
Brian Minchin
, Eleanor Moran, George Ormond, and Zai Bennett were unwavering in their support, guidance, trust, love, and enthusiasm, and gave us - and me specifically - an unprecedented level of creative latitude. For that I will always be grateful.
And finally - and most importantly - the fans.
I know many of them will be disappointed that the show isn't returning, but all good things come to an end.
We must remember too that the remit of BBC Three is to encourage and support new talent, to give them opportunities to make television, to test out new ideas and formats. In that sense, Being Human is perhaps a victim of its own success. We can't really call ourselves a new show any more, and much as I'd like to think of myself as a young, thrusting, new talent and not a bitter old war horse, the reality is we have a duty to move aside and make space for the next Being Human.
But much like the cast change from seasons 3 to 4, we viewed the news as an opportunity. It meant I could actually write a climax for the show, instead of it just popping out to the shops at the end of season 5 and never coming back. You've no idea how rare that is in television, and what a great opportunity it is to write something suitably definitive and satisfactory.
Consequently, we've created what I hope you'll agree is an epic, thrilling, and shocking finale that'll keep the fans guessing and speculating for years to come.
Then Being Human will belong to them. Once the credits on episode 6 roll, the future of all those characters will exist in the imagination of the audience, to do with as they please. But in a way, the show always did belong to the fans. Their tenacity, passion, and loyalty are what kept the show going and provided inspiration to everyone working on it.
I'm reminded of the scene in series 3, episode 8, with Mitchell and Herrick sitting in the car looking at the sunset. Herrick asks if Mitchell finds it amazing that soon this world will be theirs. And Mitchell says: "It always was."
(Yeah, and then he stakes him, I know. Ignore that bit.)
Rob Pursey
, the show's executive producer, from Touchpaper Television, commented:
Working on Being Human has been a truly great experience. From the first one-hour pilot, all the way through to this climactic series, we've been given real creative freedom and encouragement. It's a credit to BBC Three that such an unusual idea has been allowed to flourish and evolve in its own unique way.

I'd like to take the chance to thank Toby Whithouse for his incredible writing and storytelling; the other screenwriters who've made the series their own; the three producers who've nurtured the show; and the many directors who've helped us establish the show's unique tone. Being Human has also opened the door to new acting talent, including some incredibly exciting younger actors, which is a legacy we all feel proud of. We will miss Being Human, but feel inspired that there is a place for series like this on British television.
BBC Three controller
Zai Bennett
said:
Being Human has been a fantastic and faithful friend to BBC Three. It's featured some truly exceptional actors and storylines through the years and I'd like to thank Toby and the production team for their vision and passion. However, all good things come to an end and at BBC Three we're committed to breaking new shows and new talent and who better to pass that baton on than Toby?
A trailer emphasising the fact that Series 5 is the show's last one has been released by the BBC:
Episode two of the new - and now final - series will air on
Sunday 10th February
. Entitled
Sticks And Rope
, it will go out at
10pm
.
Last Sunday's episode drew an average of 731,000 viewers - its lowest first-episode audience since the first series. Series 4's opener had 1.1 million viewers, Series 3's 1.37 million, and Series 2's 1.41 million.