Friday, 25 January 2013 - Reported by John Bowman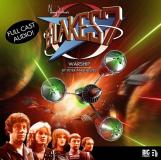 An audio drama that reunites the original surviving
Blake's 7
TV cast members has been released by Big Finish - a month ahead of schedule.
Set during the Galactic War,
Warship
- written by
Peter Anghelides
and directed by
Ken Bentley
- is a two-disc special, with the adventure on one disc and a behind-the-scenes documentary on the other.
It brings together
Gareth Thomas
as Roj Blake,
Paul Darrow
as Kerr Avon,
Michael Keating
as Vila Restal,
Jan Chappell
as Cally,
Sally Knyvette
as Jenna Stannis, and
Jacqueline Pearce
as Servalan, with
Alistair Lock
as Zen and Orac.
Peter Tuddenham
, who originally provided the voices of Zen and Orac, died in 2007 and
David Jackson
, who played crew member Gan in the first two seasons of the TV show, died in 2005.
An alien fleet stands poised to invade Federation space. The only vessel available to hold it back is the Liberator, commanded by Roj Blake and his crew.

As an intergalactic war breaks out, old enemies become allies, friends will become separated, and Blake will be forced to leave behind all that matters to him . . .
It can be bought as a
CD and download
. The tie-in novelisation, expanding on the story's events and developments, will be published next month as planned as an e-book.