Tuesday, 29 January 2013 - Reported by John Bowman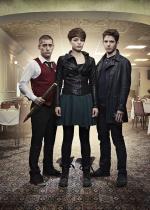 The BBC released pictures today from the forthcoming first episode of the new series of
Being Human
.
The Trinity
, written by
Toby Whithouse
and directed by
Philip John
, will start the six-episode fifth series on
Sunday 3rd February
at
10pm
on BBC Three.
Ghost Alex is adjusting to life after death with werewolf Tom but vampire Hal is in hell. Not because he's chained up like an animal but because he's desperate to get his marigolds on the messy house.

But when Tom and Alex decide to set him free, Hal is racked by uncertainty. Can he control his bloodlust? Things get complicated with the return of Mr Rook, the shady figure whose government department protects the world from supernaturals.

Having been fired from the café, Hal and Tom find new employment at the Barry Grand Hotel, home to poisonous pensioner Captain Hatch. Unknown to our trio, his decrepit exterior hides an ancient evil that threatens not only their friendship but also the entire world.
Watch a clip from it below, in which vampire Hal (
Damien Molony
) meets Lady Catherine (
Victoria Ross
), leader of the werewolves:
Hal meets Lady Catherine (via
YouTube
)