Sunday, 10 June 2012 - Reported by Marcus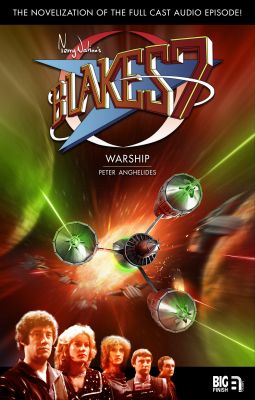 The original cast of Terry Nation's acclaimed series Blake's 7 are reuniting for a special audio episode that will be released in February 2013.
The audio is being released by Big Finish in a licence deal with B7 Enterprises.
Written by
Peter Anghelides
,
Warship
finds the spaceship Liberator acting as the sole line of defence against a massive alien invasion fleet, while Blake and his crew desperately await the arrival of help from the most unlikely of sources – President Servalan and her Federation forces…
"This is the Blake's 7 episode that we've always wanted to hear," says producer David Richardson. "It fills in the missing gap in the mythology, following the Galactic War, and ultimately to Blake and Jenna's departure as members of the Liberator crew. And it tells a whole lot more too – that alien attack force is actually far more destructive than expected, but the Federation may just have a surprise line of defence…"
"I'm delighted to see Big Finish tackle their first full cast Blake's 7 story," says Andrew Mark Sewell, Executive Producer of B7 Media, "and it's great that Peter's script so perfectly captures the spirit of the original to tell (and complete) such a significant – but previously unseen – part of the whole mythos."
Warship stars
Gareth Thomas
as Roj Blake,
Paul Darrow
as Kerr Avon,
Michael Keating
as Vila Restal,
Sally Knyvette
as Jenna Stannis,
Jan Chappell
as Cally,
Jacqueline Pearce
as Servalan and
Alistair Lock
as Zen and Orac.
The hour-long story will be released in February 2013 as a double disc set, with the second disc comprising interviews and behind the scenes material from the historic cast reunion at the recording session. It will retail for £12.99 on CD and £9.99 on download from bigfinish.com.
A novelization of the episode will also be released in February 2013, in ebook form only. The book will retail at £4.99, and expand upon the cataclysmic events and key developments in the story.