Thursday, 31 May 2012 - Reported by John Bowman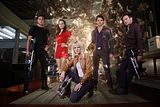 The fifth series of
Primeval
is to be finally shown on terrestrial television.
ITV1 will start airing the six-part series on
Saturday 16th June
at 6pm. It was originally shown on digital channel Watch in May and June last year under an agreement that saw Series 4 broadcast first on ITV1 before being shown on Watch.
The creature appearing in episode one is a giant burrowing insect, based on a mole cricket, and an ITV press statement said:
The mole cricket is a thick-bodied insect with large beady eyes and shovel-like forelimbs highly developed for burrowing. However, our burrower will be much larger – imagine the Silurian Scorpion with bigger legs, teeth, and much, much stronger.
The series stars
Hannah Spearritt
as Abby Maitland,
Andrew-Lee Potts
as Connor Temple,
Ben Miller
as James Lester,
Ruth Kearney
as Jess Parker,
Ciaran McMenamin
as Matt Anderson, and
Ben Mansfield
as Captain Hilary Becker.
Production on the 13-part spin-off series
Primeval: New World
began in March in Vancouver and will air on Watch this year. It will feature a cross-over from the original series.
(With thanks to Steve Layton)