Monday, 28 May 2012 - Reported by John Bowman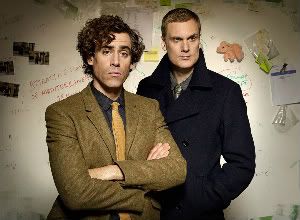 Dirk Gently
star
Stephen Mangan
revealed today that the BBC Four show had been axed.
The actor
tweeted
:
"It gives me no pleasure whatsoever to report that the BBC have decided not to make any more ‪#DirkGently‬."
A tweet later in the day from the
production team
said they didn't think another channel would pick up the show, although they offered a glimmer of hope by also saying
"but you never know"
.
A pilot episode that was shown in December 2010 garnered 1.1 million viewers, leading to a three-part series that aired this March - the first drama series to be commissioned for the channel. However, the ratings for it reportedly slipped from 844,000 to under 600,000.
A BBC spokeswoman said:
We've loved having Dirk on the channel but the licence fee freeze means less British drama on BBC4. In future we will focus on the best dramas from around the globe, like The Killing and Borgen, whilst BBC One and BBC Two become the main homes of original British drama.
The episodes, written by
Howard Overman
,
Jamie Mathieson
, and
Matt Jones
, were based on the books by
Douglas Adams
. The show was produced for BBC Cymru Wales by ITV Studios in association with The Welded Tandem Picture Company.