Tuesday, 28 February 2012 - Reported by Chuck Foster
This coming Monday (4th March) sees the return of the
Douglas Adams
inspired private detection
Dirk Gently
to BBC4, in the start of a new, three-part series.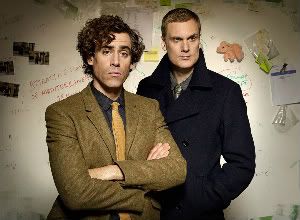 Starring Stephen Mangan as Douglas Adams' self-styled Holistic Detective. Perennially broke and morally dubious, Dirk's methods are based on 'The Fundamental Interconnectedness of All Things'.Darren Boyd
stars alongside as Dirk's business partner Richard Macduff, who attempts to rein in Dirk's more tangential decisions, keep them both out of prison and generally restore order to the chaos that Dirk creates.
Dirk Gently's one-hour instalment in December 2010 proved hugely popular, attracting 1.1m viewers (3.9% share) on BBC Four, over three times the channel's slot average.
Created by one of Britain's most exciting screenwriting talents,
Howard Overman
(
Misfits
), from the books by Douglas Adams, Dirk Gently is a dramatic, witty and intelligent series with plots that delight, surprise but ultimately satisfy - and with two characters at the heart of each story that you just want to spend time with, brilliantly portrayed by Stephen Mangan and Darren Boyd.
The series also boasts a sensational cast of regulars returning from the pilot -
Helen Baxendale
as Macduff's girlfriend Susan in Episode 2,
Jason Watkins
as Det. Insp Gilks in Eps 1 and 3 with
Lisa Jackson
returning as the unpaid, unloved and quite deeply disturbed receptionist Janice Pearce across the series.
The series is created and Episode 1 written by
Howard Overman
, Episode 2 is written by
Matt Jones
, Episode 3 by J
amie Mathieson
. The series is directed by
Tom Shankland
and produced by
Chris Carey
with music composed by
Daniel Pemberton
.
The show's executive producers are
Saurabh Kakkar
for ITV Studios and
Brian Minchin
for the BBC. The series is produced by ITV Studios in Association with The Welded Tandem Picture Company for BBC Cymru Wales for BBC Four.
Stephen Mangan says:
"Slipping back into Dirk's pointy shoes to renew my double act with Darren Boyd for three brand new episodes is, for me, about as good as it gets. I wish I WAS Dirk."
Howard Overman says:
"It's a real honour to back in the world of Dirk's holistic detection methods. He's the loosest of loose cannons and it's always fun putting such outrageous lines in his mouth to see them so skillfully delivered by Stephen Mangan and the rest of the brilliant cast."
The show's producer Chris Carey says:
"Dirk Gently feels like a rare and precious storytelling gift. Douglas Adam's books are treasure troves filled with brilliant details and profound, hilarious observations that Howard and the other writers endlessly mine to lead them off into new tales for Stephen and Darren to bring memorably to life on screen."
The following synopsis is for episode one and may contain spoilers







Episode One, Monday 4th March, 9:00-10:00pm, BBC4

In this, the first of three episodes, Douglas Adams' private detective discovers the connection between two unrelated cases: a client who believes the Pentagon are trying to kill him and another whose horoscopes appear to be coming true. When the mysteries collide, Dirk is the only man for the job.

Stephen Mangan plays Dirk, Darren Boyd plays Macduff, Jason Watkins plays DI Gilks, Lisa Jackson plays Janice, Paul Ritter plays Oliver, Cosima Shaw plays Emma, Ken Collard plays Matthew, Colin McFarlane plays Terrence and Miranda Raison plays Kate.