Wednesday, 25 January 2012 - Reported by Chuck Foster
The fourth series of
Being Human
returns to
BBC3
on
5th February
at
9:00pm
: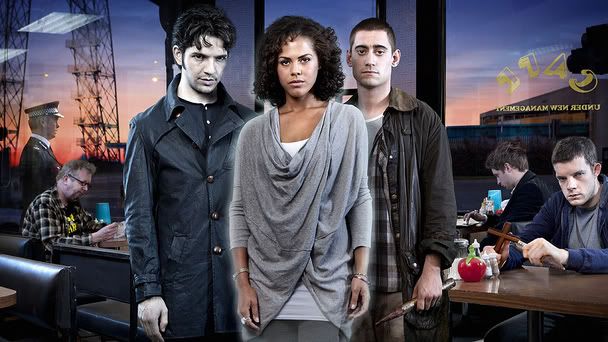 In an old B&B in a sleepy seaside town, we join Annie, her housemate George and their new friend. They're reeling from the loss of their best friend Mitchell, Tom's father-figure McNair and the tragic departure of George's girlfriend, Nina. But with a newborn baby to look after, it's never been more difficult to live life under-the-radar as a ghost and two werewolves.
There are also the vampires to deal with: lurking in every corner of society, waiting for the Old Ones to arrive and take over the world with brutal force. Can they fight them off? And at what cost? One thing becomes clear – the vampires believe that the child of two werewolves is important in their own mythology. Can this little baby really be the saviour of humanity? And what exactly are Cutler's 'alternative' plans for world domination?
The series consists of eight, sixty minute episodes, with lead writer
Toby Whithouse
(eps 1,7,8) joined by
Lisa McGee
(2),
Jamie Matheson
(3),
Tom Grieves
(4,5) and
John Jackson
(6).
Lead writer
Toby Whithouse
introduces the new series:
Every year we set ourselves the task of creating something bigger and bolder and better than anything that's happened before. We knew this year was going to be especially tough because of the various cast changes. Not only would it be our first series without Aiden, but Russell had decided that series 4 would be his last, and Sinead had decided that her Being Human journey had come to an end after series 3. The mountain before us seemed even higher than usual.

But once we'd stopped rocking and shaking, we saw Series 4 as an opportunity: we could invent new characters, expand the show in different directions, create new worlds and monsters and heroes, and add new layers to the overarching Being Human mythology. Suddenly Series 4 was a genuinely thrilling prospect.

But the essential DNA of show remains the same. Recently I found the pitch document I wrote for series 1. This was the opening paragraph:

"We're the stuff of nightmares. And we're your only hope. George, Mitchell and Annie yearn for their vanished humanity. Being Human is a unique twist on the aspirational drama, as the things Mitchell, Annie and George struggle to achieve are so common place and normal to us, yet impossibly remote to them. And the desire to be accepted by their old lost race will drive them to acts of immense courage, and foolish hazard. Our heroes may be like characters that have tumbled from the pages of a book, but their problems are always recognisably human, and the stories will strike a balance between the supernatural and the domestic."

This was for our and the BBC's eyes only. Hence the rather self-conscious 'pitch-speak' (and the odd contradiction. The characters are remote from us, yet share our problems? What? Shut up, Toby. Seriously. Stick to dialogue and stage directions.)

Obviously, a lot can happen in four years. But looking back at it now, I'm relieved to see that those words are still relevant for a show that has a new cast, a new location, an American reincarnation and expanded beyond our wildest dreams.

As ever, Being Human lives or dies on the strength of the characters and the cast, and that's why I think this series is our strongest yet.

Damien Molony joins the team as Hal. Hand on heart, I think he's one of the most exciting and versatile actors of his generation. Watching his performance grow over the filming was a joy.

Then there's Michael Socha. Promoted from semi-regular to lead. If you thought he was good in series 3, wait till you see what he does in series 4. Michael will break your heart this year.

And of course beautiful Lenora. Our star. The heart of the show. This year she gives a truly breathtaking performance. One of my favourite moments of 2011 was the first full screening of episode 2, when she left us all with our jaws on our chests.

As I said earlier, Russell and Sinead felt it was time to hang up the wolf ears and fangs. We were obviously very disappointed to see them go, but as I've always said about our cast, you can't hang on to actors that good forever.

I'm reminded of a moment in series 2, when George is talking about moving in with his girlfriend. Annie is devastated, but Mitchell knows that there's not much they can do. Then Annie leans across to Mitchell and mutters: "We have a cage…" Believe me, the thought did occur to us too.

So what have you got to look forward to?

We introduce you to a new type of supernatural creature (thank you, Wikipedia); there are some stunning guest appearances from Alex Jennings, Mark Gatiss, James Lance, Mark Williams, Amanda Abbingdon, Craig Roberts (reprising his role as teenage vampire Adam), Selina Griffiths and Ellie Kendrick; there's a genuinely shocking death, and we take you to somewhere we've never been to before.

News of Russell's departure – and to Aidan's before that – was greeted with rather wearying predictions that the show was now 'over'. But I write this a few days after seeing the finished cut of episode 8, and I'm happy to report that it's never been in ruder health.

The new cast, the crew and directors and the other writers have pulled off something extraordinary and completely reinvigorated the show. I hope you'll agree, rumours of Being Human's death have been greatly exaggerated.

Lenora Crichlow talks about her return as ghost Annie: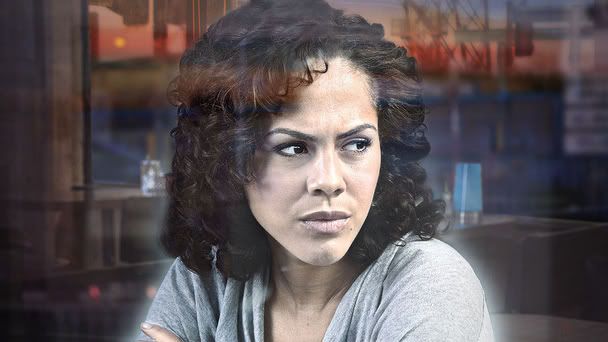 On returning to play Annie this series...
I was so excited to be back! So much has changed in the show it was really exciting and I didn't know what to expect. In this series we go back to more of the original comedy, relationship side of Being Human, which I have always enjoyed playing in the past. It's a much more domestic side of the show, but it also promises all the drama and gore of the underworld as well.
I missed Aidan and Sinead a lot, but the essence of Being Human, the love, enthusiasm and integrity of the show, is still there. We still have the same crew and production team behind it, but a different dynamic now we have had some changes in cast. Episode one is high high drama. Think huge tears, and huge shocks, but it is also very exciting. It will have you on the edge of your seat!
On the new characters in the show...
Michael brings his own comedy to the show, which Russell brought, but Michael brings it in a very different way. George is very mature by this series, where as with Tom we get a really young, naive character – which is what his humour is based around. He's at that teenager stage in his life.
Damien brings a whole different intensity to the vampire. He is very very intelligent and wise like Mitchell was, but again in very different ways. His wisdom come from severely managing his condition and his intensity comes from his discipline rather than his lack of discipline like Mitchell.
So the overall core concept of the show is the same – but the feelings and roles are interpreted very differently. The balance between drama and humour between Annie, Tom and Hal is brought from different angles that we haven't seen before.
On Annie...
Annie has changed. She is forced to move on and forced to grow up. She's also forced to be very maternal as she's left holding the baby. It's a huge arc for Annie yet again. Each series Annie, not through willing, more through necessity, has to really challenge herself which is always a good emphasis on growth. She also has new people in her home that she has to reassure, make comfortable and adjust to – so she's kind of like mother hen this series, and a has a lot and lot of responsibility. Whereas before, and certainly in series one, it was much more like the others were responsible for her. By this series Annie's sense of duty and responsibility is what drives her.
On filming her favourite scenes...
I loved the relationship between Annie and Tom. I love having to play the mothering role with a teenager and a baby, and trying as best as I can to get this balance right. I really like playing maternal Annie. I've got to play love struck Annie and victim Annie and empowered Annie, and I must say I've really enjoyed nest making this series!
On Annie's destiny...
Annie realises her destiny this series, and this is a powerful role in itself, rather than it being new tricks she can perform – which there are a few that she discovers this series. She starts to realise her destiny as a ghost - it is bigger than her, but it's also empowering to know what she has been put here to do.
Annie has been a ghost since her fiancé killed her back in 2007, but since then she's seen more of life than ever before. She's defied death's door, been to Purgatory and back, discovered her lover (Mitchell) was responsible for the murder of twenty innocent people and watched as he was killed by best friend George. In this series, Annie is more than ever the matriarch of Honolulu Heights, left holding the baby with the fate of the world in her hands.
Michael Socha, who plays werewolf Tom: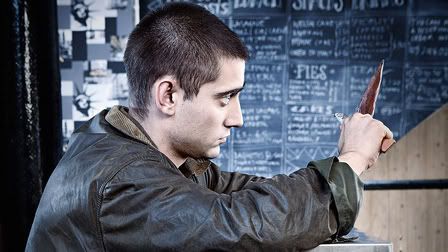 On Tom...
You get to know Tom a little bit more in this series. You watch him grow up, this is his adolescence. Tom's puberty! He's experiencing things probably a 13 or 14 year old would. He tries to adjust to these changes while at the same time is having a hard time coping with different emotions that he has never experienced before. You will discover Tom is quite an emotional character. Tom lost his dad in the last series so now he has to grow up. He copies McNair in a lot of ways, there are a lot of similarities, a lot of things Tom has taken with him, but I think Tom now is his own man. He may be looking for a bit of guidance along the way, but deep down he knows he is now on his own.
On Hal and Annie...
Hal is the new vampire in town – Tom smells him from a mile away. At first there is a lot of hatred between the two of them but they do eventually get over that. Hal has only ever trusted one werewolf before, which is Leo, and now has to deal with Tom, who is a vampire killing adolescent (as it were). I think for both of them it's a challenge to get on.
Annie is like Tom's mum. She looks after him, teaches him how to live in a house, teaches him some ground rules, and Tom likes this, he's really happy living with his new friends, his new pack. He also enjoys helping Annie with Eve, the baby. He takes on the responsibility of helping to protect and look after her.
On becoming a lead role this series...
When they first told me I was going to be a lead role in this series I couldn't believe it! It was hard work but I thoroughly enjoyed it. This is my first big lead role and I absolutely love playing Tom...we're both energetic and both absolute hate vampires. I've also never had the opportunity to play anything but a human, so now I'm a werewolf I feel I've been let loose. I can scream my head off whenever I like!
On transforming...
At the end of transformation I am absolutely shattered, but I just love it. It's a release. To prepare I do a bit of running about – I have to get myself a bit worked up - I'm nearly transforming before they say action. I hype myself up and work myself into a bit of frenzy and then I'm ready. And when you get the wolf mask on your face you can't help but be the wolf. There are stages to becoming the werewolf – you have the nails put in, then the contact lenses to change your eyes, and there is a stage where there are veins and teeth. Then you have the full four hours in prosthetics which is for the full mask which you can move around in, it feels like real skin, and they put hair all on your face and your eyebrows. They also use something called a flocking gun which gets really little hairs on you so it looks natural and real – and the last stage is a full werewolf, which sadly isn't me, as they have 'professionals' come in to play the giant werewolf. ...!
On filming his favourite scenes...
My favourite scenes are in the cafe. This is the new working hub – Tom's now got a job there and he loves it. He also introduces Hal to the cafe to get a job; he needs to get him into the real world and into society. And my other favourite scenes are from the first episode and filming with Russell. It's a dark episode and I can't say too much but there will be love, laughter, tears, new friendships, oh and more tears!
Werewolf Tom has spent his life on a mission: to kill vampires. In series 3, Tom discovered that not only was his father, McNair, not his real dad, but that he was the one who gave him the werewolf curse. Since McNair's death, Tom has stayed in Barry and is welcomed into Honolulu Heights. Putting his nomadic life and his mission to kill all vampires (mostly!) behind him, Tom has to learn to live like a human, love like a human and fight like a human. But will he succeed?
Damien Molony, playing new character Hal: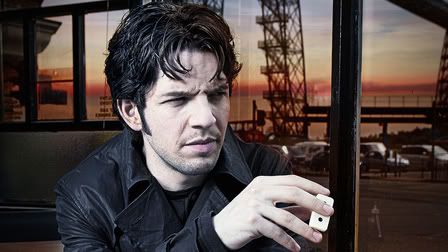 On how he got the part...
I got the part when the casting director came to my drama centre showcase last February and she brought me in to read for the part of Hal. I was doing a play up in Leeds at the time so I was back and forth on the train the entire time. I met Michael at the recall and they put us together, up against a wall, to see what the two of us looked like together and I didn't realise how short Michael was at the time! It took me back! I got a call from my agent 3 days later just before I was about to go on stage and she told me they had offered me the part!
I moved down to Cardiff the following week and that was it for the next six months. Costume fittings, rehearsals, I was completely thrown into the deep end, but it was the most amazing job I have ever done.
On vampires...
I watched all the past series back to back and all the old school vampire movies. Mark Gatiss actually did a BBC Three documentary on vampires and vampire films and so I went and brought every single film that he talked about and started learning old school vampire folk law. It's so fascinating! I haven't watched any of the new stuff as I didn't want to be drawn into a comparison. Toby's world of vampires exists without all the vampire mania that's happening. I approached this role with an old school perspective. Hal is dated and drenched in history. He's almost like an antique!
On what's in store this series...
Every time I got a new script this series it was so exciting. The arc of the entire series is so exciting. No one knows what's going to happen to Eve the baby, or when the old ones are coming. Guest stars pop up everywhere – you're constantly thinking what will they do next? In terms of Hal, his biggest challenge is blood. He must stay away from blood.
On becoming vampire Hal...
Playing Hal is my first TV role. Learning how to work in front of the camera under the guidance of the crew and working with Russell, Lenora and Michael, has just been incredible. I knew the scene was coming up for when I first had to become a vampire. Every night I'd go back to my apartment in Cardiff and practise my vampire face. I practised my hiss with imaginary fangs and then when I actually got the fangs in I found they really do all the work for you! Being a vampire was a real change from the human, emotional scenes as you're free to do whatever you want and you can be as big and as bold and as brash as you want to be.
On Annie and Tom...
Hal gets to know both Annie and Tom over the first three episodes. With Tom being a werewolf it creates lots of tension and hatred between them and towards one another, especially because Hal is so posh and Tom is the opposite of posh. There is that great tension Michael and I could play off between the two of us. And then on the flip side Hal was very cautious of getting to know Annie and vice-versa. That's when I was getting to know Lenora so it worked very well.
On Mitchell...
Mitchell was such an iconic vampire, so it was nerve-racking joining a show to replace this fantastic actor and fantastic character. But the more and more I read the scripts and the more I realised where Hal was coming from, I realised they are so different, so the pressure was taken off slightly. I spoke to the directors and writers in length about it, and it was great to be given the freedom to pursue an entirely different character, rather than come in and play Mitchell II.
On what's in store for Hal...
When Hal arrives in Barry, he faces a massive test. He hasn't drunk blood for a long time, but before that he was a legendary figure amongst the vampires. Even more dangerous character than Mitchell, perhaps even more than Herrick. But he's stayed dry for decades through a very strict regime of denial and routine and security, but when we meet him, all that is starting to get eroded and this puts him - and everyone else - in a really perilous position.
Another test for Hal, a test on his mental strength, is his relationship with the opposite sex. Like a lot of vampires, sex and bloodlust are inextricably linked. It's like sex is a gateway drug, I suppose, and so for the last 50 years he's been avoiding any kind of intimacy. But now, in this new house, with these new people, all his discipline and abstinence starts to crumble as he's faced with all the temptations of the modern world.
Hal has been a vampire for over 500 years and the temptation for blood and carnage still rules his every waking thought. Since meeting best friends Leo (a werewolf) and Pearl (a ghost) in 1955, Hal has managed to stay off the blood by sticking to a rigid structure and keeping away from all people. Coming to Honolulu Heights is a huge disruption for Hal. And he doesn't cope well with disruption. At first, Hal – the stand-offish, posh vampire – and Tom – the common, feral werewolf – find themselves at loggerheads, but once a mutual respect is gained, we see this odd couple become close.
Watch the Series Trailer: