Tuesday, 12 December 2017 - Reported by Willy Phantom
Willy Phantom, 12th December 2017
Monday, 11 December 2017 - Reported by Willy Phantom
Willy Phantom, 11th December 2017
Sunday, 10 December 2017 - Reported by Willy Phantom
Willy Phantom, 10th December 2017
Friday, 8 December 2017 - Reported by Marcus
Wednesday, 6 December 2017 - Reported by Marcus
The BBC have released new pictures taken from the upcoming Christmas episode of Doctor Who -
Twice Upon A Time
.
Two Doctors stranded in an Arctic snowscape, refusing to face regeneration. Enchanted glass people, stealing their victims from frozen time. And a World War One captain destined to die on the battlefield, but taken from the trenches to play his part in the Doctor's story.

An uplifting new tale about the power of hope in humanity's darkest hours, Twice Upon A Time marks the end of an era. But as the Doctor must face his past to decide his future, his journey is only just beginning...
Christmas Day
at
5.30pm
, followed by transmission around the world.
Full details here
Wednesday, 6 December 2017 - Reported by Marcus
This week sees Titan release a new single issue comic featuring the Twelfth Doctor.
Twelfth Doctor Year Three #10
Writer:
Richard Dinnick
Artist:
Francesco Manna
Cover A:
Simon Myers
,
Rachael Smith
Cover B: Photo Cover C:
David Carr
All new adventure begins for the Twelfth Doctor, Bill and Nardole! Celebrate the most recent TARDIS team in all its glory!
Tuesday, 5 December 2017 - Reported by Marcus
The BBC has confirmed that this year's Christmas Special,
Twice Upon A Time
will be broadcast at
5.30pm
, Christmas Day on BBC One.
The timeslot follows the pattern of recent years whch sees Doctor Who as the anchor of the BBC's Christmas Evening Entertainment.
Overseas the Episode is expected to be braodcast on BBC America and on SPACE on Christams Day at 9pm and on ABC Australia on 26th December at 7.30pm.
Monday, 4 December 2017 - Reported by Marcus
Gaydio
, the UK's LGBT radio station, is offering the chance to have lunch with former Doctor Who Show Runner
Russell T Davies
.
The oppotunity is being offered in aid of the
Terrence Higgins Trust
#SeeRed
appeal for World AIDS Day.
The winner has the chance to meet Davies at a central Manchester Restaurant for lunch. They will get an hour with the screenwriter and television producer whose works also include
Queer as Folk, Bob & Rose, The Second Coming, Casanova
, and the trilogy
Cucumber, Tofu and Banana
.
The location for this will be Australasia in Manchester and includes your meal on a mutually agreed date before the end of March 2018 Full details including Terms and Conditions via the
auction website
.
Friday, 1 December 2017 - Reported by Marcus
Broadcast Magazine
reports that the upcoming series of Doctor Who is being shot with different cameras to give the series a new filmic look.
Tha magazine reports that the production house
Films at 59
has supplied BBC Studios in Cardiff with
Cooke anamorphic Prime lenses
and
Angenieux Optimo anamorphic zooms
that will be used with
Arri Alexa XT
and
Alex Mini
cameras. The intention is to bring an increased cinematic look to the show which went into production at the end of October.
Films at 59 hire client manager
Dave Wride
told Broadcast
The BBC have made a monumental leap here to enhance the look of Doctor Who and I'm sure the fans will not be disappointed with the distinctly cinematic results that this lens and camera combo will afford them.
The lens change is one of a number of changes being made by the new production team led by Executive Producers
Chris Chibnall
and
Matt Strevens
, in what is expected to be a major reboot for the series. Earlier this month The Mirror reported that Composer
Murray Gold
is also to leave after this year's Christmas Special, but this has not been confirmed by the BBC.
One person definitly departing is
Edward Russell
, who has been Brand Manager on Doctor Who since it returned in 2005. Russell announced his departure on
twitter
I've been planning my departure since the summer & agreed to stay on to see out Peter Capaldi's era. I'll be here until the end of the year. The role ends with my departure but I'm sure the work will continue. What an amazing 12 years!
The last episode produced by the incumbent Production team is this year Christmas Special
Twice Upon a Time
which will see
Peter Capaldi
regenerate into thirteenth Doctor
Jodie Whittaker
.
Friday, 1 December 2017 - Reported by Marcus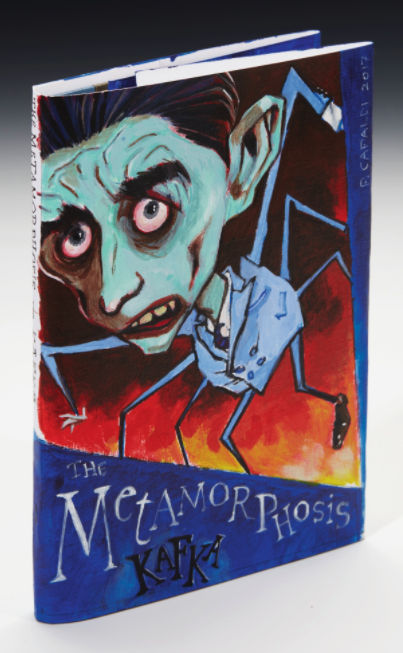 Peter Capaldi
has designed a new, original jacket for a first edition of
The Metamorphosis
by
Franz Kafka
to raise money for
House of Illustration
– the world's only public gallery solely dedicated to illustration and graphic arts.
The auction, at Sotheby's London, on 11 December 2017 - 12 December 2017, will offer a collection of 33 first editions of classic books, each with an original dust-jacket, created and donated by leading artists and designers to benefit House of Illustration.
Each artist selected a book they felt a strong connection to and then created a new dust-jacket or artwork in response to it. The re-worked classics include Harper Lee's To Kill a Mockingbird, Lewis Carroll's Through the Looking Glass, J.D. Salinger's The Catcher in the Rye, Rudyard Kipling's The Jungle Book, T.S. Eliot's The Waste Land, D.H. Lawrence's Sons and Lovers and George Orwell's Animal Farm.
Peter Capaldi chose to illustrate The Metamorphosis, the novella written by Franz Kafka which was first published in 1915.
I chose to illustrate the cover of The Metamorphosis because I find the story so powerful, the imagery unforgettable, and the sadness at its heart completely human
The book is expected to raise up to £2000 for the charity which works with schools across London on projects with young people to inspire creativity and enable them to communicate visually, overcoming barriers such as language, literacy levels and special educational needs.
Ahead of the sale, all works will be on display at
Sotheby's London
(34-35 New Bond Street) from
8-11 December 2017
. In total, thirty-one artists have donated to the sale.
For more information visit
Sothebys Website
.
Friday, 1 December 2017 - Reported by Chuck Foster
This year's annual
Doctor Who
cover for the
Radio Times
appears on the issue covering 9th-15th December, and features an image of
Peter Capaldi
in an 'exclusive souvenir issue'.
Inside the magazine there is a six page feature on the show, including interviews with the show's outgoing lead writer
Steven Moffat
, alternative first Doctor
David Bradley
, plus an item on Radio Times coverage of the twelfth Doctor's era over the last few years.
Speaking about the arrival of the new Doctor in the form of
Jodie Whitaker
, Moffat explained why casting a woman hadn't occured when he first took over, even though he had previously introduced a female Doctor in the form of
Joanna Lumley
in
The Curse of Fatal Death
:
If we'd replaced
David Tennant
with a woman it wouldn't have worked. It was too early. We could have replaced
Matt Smith
with a woman, given that his Doctor was more sexless and less of a lad, but then I got obsessed with seeing Peter in the Tardis.
Bradley thinks she is a good casting choice:
When I heard it was Jodie I thought, "Well, that's perfect" - because she's got the range and she's funny. They just need to keep that sense of fun and not forget the comic energy.

You can read the full interviews in the Radio Times, on general release in the United Kingdom tomorrow, 2nd December.
The 'legendary' Christmas edition of the Radio Times (23rd December - 5th January) will of course feature
Twice Upon A Time
, and will be on sale from Saturday 9th December in London and the South East, and nationwide by Tuesday 12th December.
Friday, 1 December 2017 - Reported by Marcus
BBC North's free screenings this year's Doctor Who Christmas Special,
Twice Upon A Time
, have received a huge request for tickets, with almost 35,000 entries in the ballot.
Exclusive previews will be shown in eight towns and cities in northern England.
Kicking off in Hartlepool on December 14, the Christmas tour will visit York, Hull, Newcastle, Middlesbrough, Salford and Durham, before finishing in Bradford on December 22.
Ticket holders will be able to pose on the BBC red carpet alongside props from the shows, including Daleks and the TARDIS.
David Bradley
said:
It's really exciting that Doctor Who fans in the north of England have the opportunity to see the Christmas special first. I really enjoyed playing the First Doctor and as I'm from Yorkshire, it's extra special to me that the screenings are taking place in the north.
The ballot to apply for tickets to these exclusive previews closes this
Sunday, 3 December
. TTo apply visit the
BBC Shows and Tours website
. Tickets will be allocated via a random draw with 45% going to local postcodes, 45% going to the surrounding county and 10% to the rest of the UK.
The Doctor Who Screenings will be as follows
Thursday 14 December - Hartlepool Town Hall - 7pm
Friday 15 December - The Guild Hall, York – 7pm
Saturday 16 December - Jubilee Church, Hull - 7pm & 8.30pm
Sunday 17 December = St Nicholas Cathedral, Newcastle - 7pm & 8.30pm
Monday 18 December - The Middlesbrough Empire - 7pm & 8.30pm
Tuesday 19 December - Dock 10, MediaCityUK, Salford – 7pm & 8.30pm
Wednesday 20 December - Durham School - 7pm & 8.30pm
Friday 22 December - Old Odeon, Bradford - 7pm & 8.30pm
Please note the last few moments of the episode will be kept as a surprise until the
BBC One
broadcast on
Christmas Day
.
Thursday, 30 November 2017 - Reported by Chuck Foster
Denmark is the latest country to be added to the list of those showing this year's Christmas Special on the big screen, with the ticket sales site Kino now listing details about the presentation:
Dette års Doctor Who Christmas Special-afsnit bliver et fler-Doktor-eventyr med the Doctor (Peter Capaldi) og den allerførste Doctor (David Bradley).

I afsnittet, som hedder "Twice Upon A Time", medvirker også Pearl Mackie som følgesvenden Bill Potts og Mark Gatiss som en soldat fra Første Verdenskrig - indtil videre kun kendt som 'The Captain'. Som tidligere omtalt bliver dette Peter Capaldis farvel til serien.

Udover selve det særlige Christmas Special-afsnit vil der være en overraskelse på lærredet, som er guf for alle Whovians.

The presentations take place in the usual CinemaxX København, CinemaxX Aarhus and CinemaxX Odense on 26th December (4pm), 27th December (6:30pm) and 31st December (midday). Full details on how to book can be found via
their website
.
Denmark cinema have played host to the last few Christmas adventures with the Doctor, as well as the current Doctor's debut and a 3D outing for his first series finale!
Wednesday, 29 November 2017 - Reported by Chuck Foster
RP2 Global
have announced a set of vinyl figures to tie into the four books published by Puffin Books based on Roger Hargreaves colourful characters: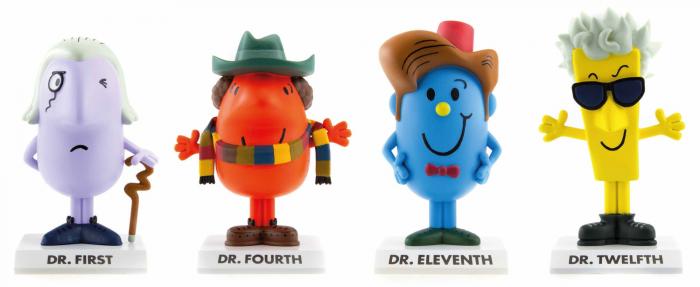 Dr Men are about to enter the 3rd dimension with these unique figurines from RP2 Global. Dr First, Dr Fourth, Dr Eleventh and Dr Twelfth will be on sale in Amazon, Smyth's Toys Superstores and Forbidden Planet from 6th December.
The 11cm tall colourful vinyl figures are inspired by the collaboration between BBC Worldwide and Sanrio for its Mr Men/ Dr Who mash-up.
The figurine collection mirrors the 4 Puffin books Dr First, Dr Fourth, Dr Eleventh and Dr Twelfth released in Spring 2017 and published by Penguin Random House. The books are inspired by Doctor Who and reimagined in the style of Roger Hargreaves, best known for the Mr. Men books.