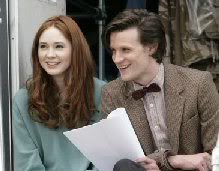 The chairman of the
Harris Tweed Authority
has praised the new Doctor for his costume; Domhnall Martainn described the jacket choice as an important and sensible decision, and hoped young people would be inspired to choose clothes made from the traditional cloth:
"We think it'll take the image of Harris Tweed to a new level, when you think that there are millions of people who follow this programme. There's no way the Harris Tweed industry could have bought publicity like this. There's no doubt that young people watch this program. Anything that someone like Doctor Who uses, we hope it will set an example and that young people will go out and buy Harris Tweed clothes."
Esquire Magazine editor Jeremy Langford:
"The cross between rookie geography teacher and Hoxton clubkid works well: a bit of old-school time-traveller meets modern-day adventurer."
GQ Magazine contributor Andy Morris:
So it was with some delight that today I saw the first picture of the eleventh doctor, played by Matt Smith. The early signs are good - while he's not exactly going to keep John Galliano awake at night, he's very well put together. Preppy, with a neat bow tie, skinny jeans, fitted jacket and no-nonsense black boots, he looks like an Acne catalogue model. And that's a good thing. Dressed as such, he could be hanging around backstage at Pitti Uomo, chatting to some elderly Italian gent who is being snapped by Scott Schuman (AKA the Sartorialist). Smith's hair is still a concern but given my own increasingly leonine locks I probably shouldn't start that argument. Filming in Cardiff, he looks relaxed, happy and (kind of) handsome.
(
full article
)
However, not everyone has been pleased. Guardian columnist
Hadley Freeman
commented:
I hate this outfit because it commits the ultimate fashion crime: it is trying too hard. It is a patchwork of "Grazia told me this is very fashionable right now" looks, and that is just wrong. A Time Lord should not read Grazia. DM boots and all their lookalike cousins have, incredibly, been having what magazines insist on calling a "comeback" for some time, mainly on the basis that Agyness Deyn likes them. The shortened trousers are the signature style of the perennially trendy menswear designer, Thom Browne. Thanks to the joyless likes of Pharrell Williams, bow ties are very in now but, like, ironically (that sound you hear is the sound of style dying) and, yes, you can buy them at American Apparel. Of course you can.
(
full article
)
And Sara Nathan of the Sun:
University of Westminster fashion course director Andrew Groves commented:
"Whilst David Tennant's Doctor was undoubtedly influenced by Britpop and Quadrophenia, this Doctor seems to be influenced by Indiana Jones' geekier nephew. It seems a curiously British idea to make the lead character in a prime time TV show look purposely and perversely less attractive than they actually are, I can't think of anyone that would look at this image and then decide they would want to stick it on their bedroom wall."
Additional costume reports and comments by:
BBC Magazine
,
BBC News
,
The Age
,
Airlock Alpha
,
Digitial Spy
,
TV Squad
,
Herald